IT Professionals in Schools
Published on
Our industry has a problem. It's not a new problem, and it's a fairly well known problem. Our industry is suffering from a skills shortage, but this is just a symptom of the problem. The problem starts in schools.
Anna Debenham articulates the problem better than I ever could, and if you've not seen this presentation yet, I highly encourage you to watch it:

http://vimeo.com/16205262
So what can we do about it?
Let's look at the problem again. The problem stems from the fact that curriculum design takes place slowly because of the bureaucratic way exam boards run, and the fact that teachers need the time to learn any changes to the syllabus. This flies in the face of the way and speed our industry works, with the web being probably the best example at the moment of a high speed of change. It's not just being out-of-date, however – some aspects are just plain wrong, as Anna demonstrates in the video above.
In many cases a few "gifted & talented" kids will know more than their IT teachers, and in some schools, their IT support staff. Kids will try to push their boundaries, which scares the adults, which results in heavily locked down IT systems, which stifles innovation in school.
This doesn't help the problem.
Case in point, myself and a friend ran a video game news website around the age of 14 (so around 9 years ago). The design wasn't great, and the Perl "CMS" has a massive hack, but we were banned from doing any work on this in school time, because it came under the realm of "video games". At the time, the school had an "always-on" ISDN connection, and we were at home with dial-up, so using the school facilities (during break times) would have helped us do this. This is less true now, with many home facilities as good as school, but it does show that this isn't a new problem.  Ultimately this "hobby" became our respective careers – I'm now a web developer and he's a journalist. School should have been encouraging this.
[caption id="" align="alignright" width="535" caption="xkcd has this spot on"]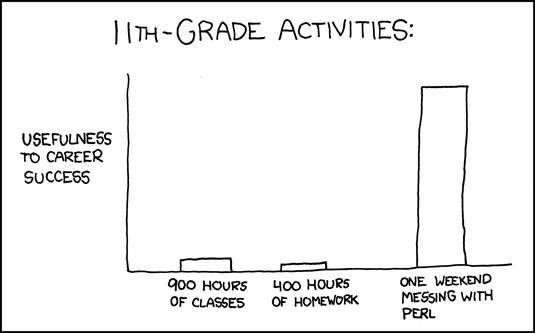 [/caption]
The teachers aren't to blame – the way they teach the course is necessary in the system we work in, where success is measured on exam results, so in reality you don't get taught "IT", "Physics" or "Maths", but those subjects as seen and deemed important by the filters of Edexcel, AQA, etc… Most young people in our industry today are self-taught outside of school, perhaps a recent graduate with a Computer Science degree (which isn't particularly useful in web development anyway), but most of the skills used in our jobs are picked up from messing around with PHP, Perl, or whatever we want to play with.
The problem is fairly well-understood, and the symptoms obvious: people get turned off IT as a career early, we have a skills shortage, and a massive gender disparity. There's no quick and easy fix, but I think there's something we can do.
If the IT teachers are stifled by the curriculum and the education system as a whole, perhaps someone else needs to come in and demonstrate real-world IT, to inspire some kids and to get a couple perhaps interested in it enough to stick with it when they would have perhaps dropped it.
I want to propose a scheme where IT professionals volunteer in schools and run a small workshop to show students what our industry is really like. But I think it needs a bit more flesh than that. So consider this a call for arms – please tweet this post, blog about this idea and link back here and get some momentum.
I'd like to see this as a semi-formal scheme, where a IT professional registers on a site saying they're available in a certain area, as well as a school, and the two match up. Ideally, we'd bash together some sample "lesson plans", with help from IT teachers, which professionals can go in and deliver – perhaps to the "gifted & talented" sets within a secondary school. Schools would still be responsible for due diligence (performing CRB checks, etc), but the hardest thing would be evangelising the scheme. Professionals could reach out directly to nearby schools, or perhaps their old schools, and hopefully that'll start the word spreading within the education community about the scheme, as well as us spreading the word within our community.
Those of us who are employed and not freelance, will have to reach out to their employers to get permission for an afternoon to do this – but I think the scheme is sellable to managers, although working in higher education I may be a bit naive on this point
I think the next step is to get together a group of people interested in, and capable of, delivering these workshops, as well as some IT teachers, putting together some lesson plans, and then liaising with schools to deliver this, before launching the scheme in full. I'd be very interested in hearing thoughts on this, whether you think this is a viable idea and getting this happening.